Accounting wins! Strategies for using shopVOX for business growth.
Accounting wins! Strategies for using shopVOX for business growth.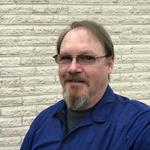 Updated by Aaron Aldrich
Some of the components of shopVOX are the accounting integration, reporting and business intelligence dashboard. These elements can help you with analyzing your business and possibly create a strategy to improve your cash flow or profit margins. This article will review some of these and some best practices to improve your business.
In this article this is what is covered:
Accounting integration
shopVOX reports - Bill of materials
Business intelligence - Product mix
Updating your Pricing for Materials
What is your shop Overhead rate?
Collection dashboard, increasing cash flow and online payments
Accounting integration
Currently, we can integrate with several accounting programs and we are working on some additional ones. The most popular in the US is Quickbooks, which we can integrate with both Online and Desktop versions. For the international community, we have developed a process to migrate information to Xero. We are working on a Sage accounting integration as well. For more information on how to do this, refer to these articles.
The value of integrating with your accounting software is it will save you valuable time by eliminating manual double entry and potential errors.
shopVOX reports - Bill of materials
Are you getting the best negotiated pricing from your vendors? Is there potential for getting a better deal? Vendors often will give you a deal for being a valued customer - translation - You buy a ton of product from them. But how much do you buy in a given Quarter or Year?
If you have your Products built with material components, this data can be compiled on the BOM(Bill of Materials) Used report and the BOM Used 2 report.
BOM Used - will generate a list of materials for a given time period
BOM Used II - will generate a list of materials, labor rates and machine rates
Run the report for the whole year
Print it or export it
Find the items you used most
Schedule a call with your vendor to discuss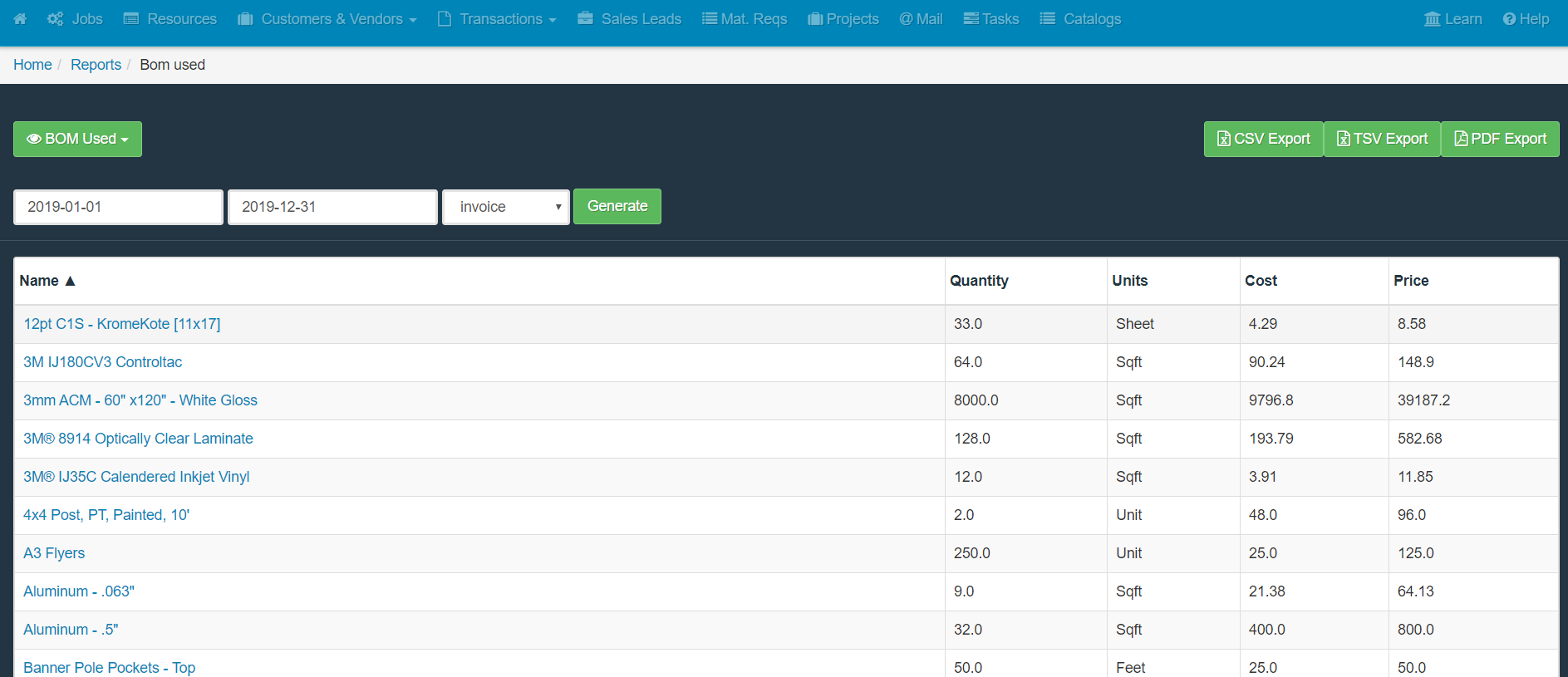 Business intelligence - Product mix
There are several ways to increase your business revenue - the two main ones are increase sales volume or increase profitability. The Business intelligence dashboard has a lot of valuable information for several different areas of your business. This dashboard can help with both of these.
Stop making stuff that doesn't make money! This may sound backward, but you can increase profitability by removing product lines from your business.
Every business has those really profitable products that sell well, but there are also those time consuming products that don't make much money. They are more work than they are worth. What if you stopped making those and focus on selling and marketing the money makers?
A good way to see what you are selling is using the Product Mix section of the BI dashboard. This will give you a snapshot of what was produced in a given time period.
In this example, almost 5% of business have very low profit potential. Would it make sense to remove these options in the next sales cycle?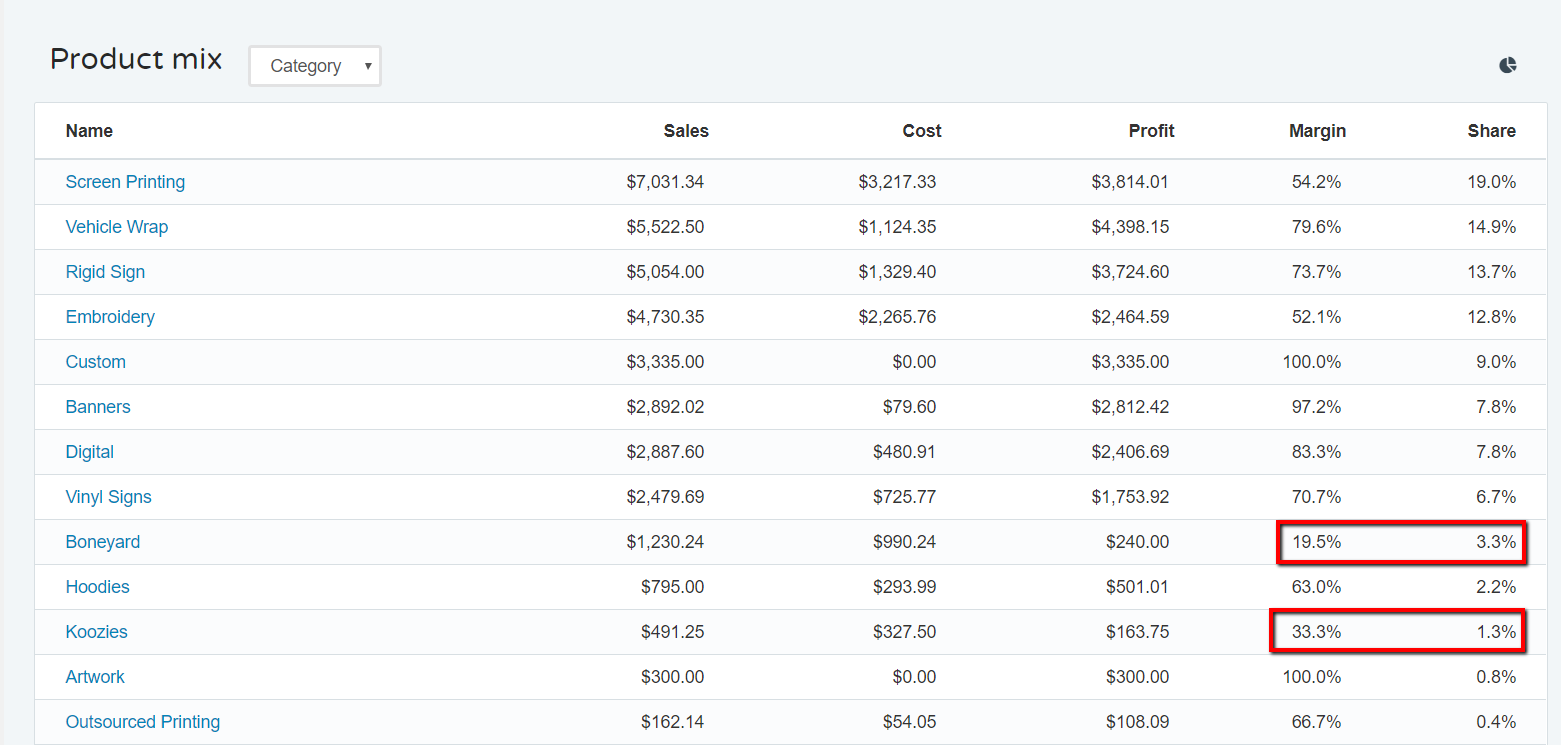 You can also generate a pie chart of your Products to have a visual of your business mix.

Updating your Pricing for Materials
Have you entered your actual material dimensions and cost to your materials? You can have 'to the penny' accuracy on your raw materials. This article reviews adding and adjusting your materials.
If you have already done this and have a good handle on your costs and prices...
...Have you increased your prices? - this is usually answered - 'No, I haven't done that in awhile.'
...and sometimes it has been years!
On the materials page you can 'give yourself a raise'!
This is how it is done:
Export Material List
Add 3-5% points to price
Import Material List
"Update Existing Items"

What is your shop Overhead rate?
You can use your Overhead rate for machine rates and labor rates.
In the Setup Wizard > Calculate Burden rate page - this page is a worksheet that can be use to get a basic overhead rate for your shop. This final hourly rate can be used in your Machine and Labor rate items.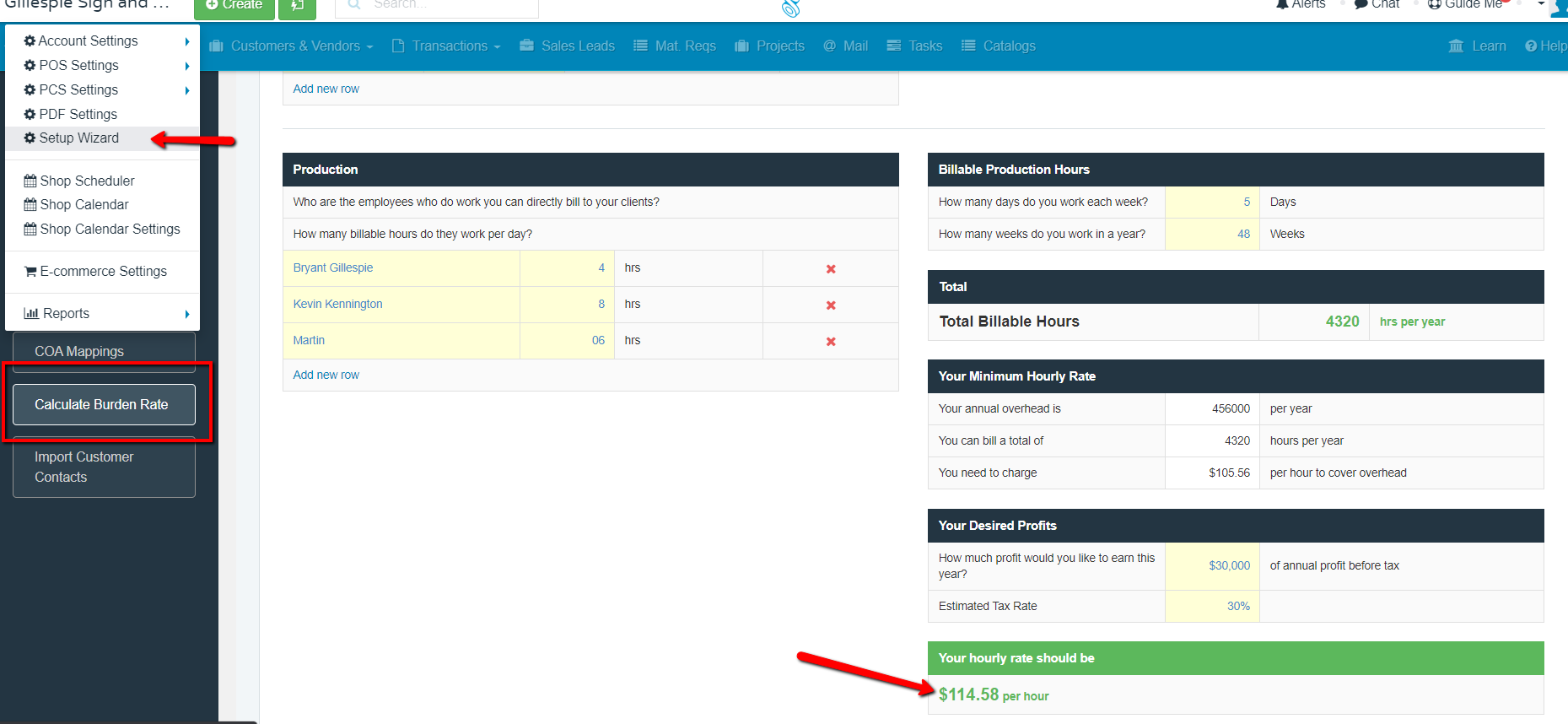 Collection dashboard, increasing cash flow and online payments
There is a specific Collections report section that can be used to send out statements to your customer base. We also have a feature to automatically send out Invoice statements to your customer base. This is called Scheduled actions.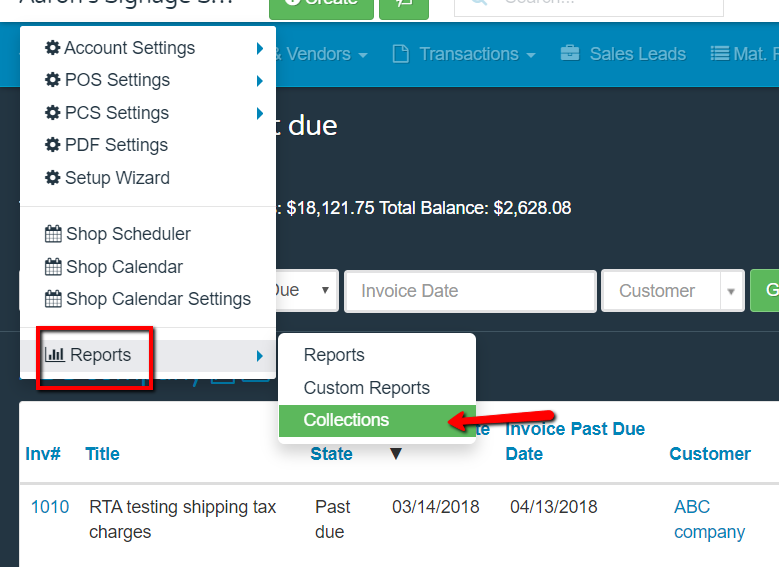 BUT!!
Even before collections and chasing receivables, what about setting the standards for getting the money upfront? Or having customers pre-pay with their credit card online with a Payment link you send them?
In POS settings > General - you can set the default payment terms. A lot of shops usually have this set to 50% down/ 50% on completion.
I personally knew a business owner that set their standard to 75%/25%. So they had most of their money before production even started!
Adding online payments can be even better! Most customers will assume they will need to pay 100% when paying for a product online. If you don't have this setup - check out this article.
How helpful was this doc?