Materials - Understanding, Adding and Adjusting
Materials - Understanding, Adding and Adjusting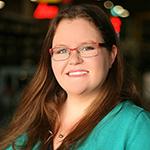 Updated by Lila Carsten
In all aspects, materials are the tangible components you buy and resell in some form or fashion. You may consume them to build a product for sale (i.e vinyl for a wrap) or simply broker them (i.e outsourced flat cut acrylic letters). They can be sold by the square, by the piece, by the foot etc. In shopVOX as you set those selling units you can also assign a formula to sell by. If you buy vinyl by the roll and sell it by the square foot, you can tell shopVOX to use a formula of area. On the other hand, you might sell it by the linear foot so you can; tell shopVOX to use the width or height of dimension entered. There's lots of variety in shopVOX so that you can sell your materials in a way that makes sense for both your shop and the situation. That means you should take a few minutes to strategize as to how this list should be set up. Ask, if you have questions 🙂
There are a few things to familiarize yourself with in regards to materials. They are:
Material type – This is similar to product type in that it is a large group in which you place like materials. A good example of a types are vinyl, paper stock, substrates, garments, accessories etc. The fewer types the better. Each material placed in a type can have it's own category.
Notice how the material has a type called substrate and use the category to further organize the material.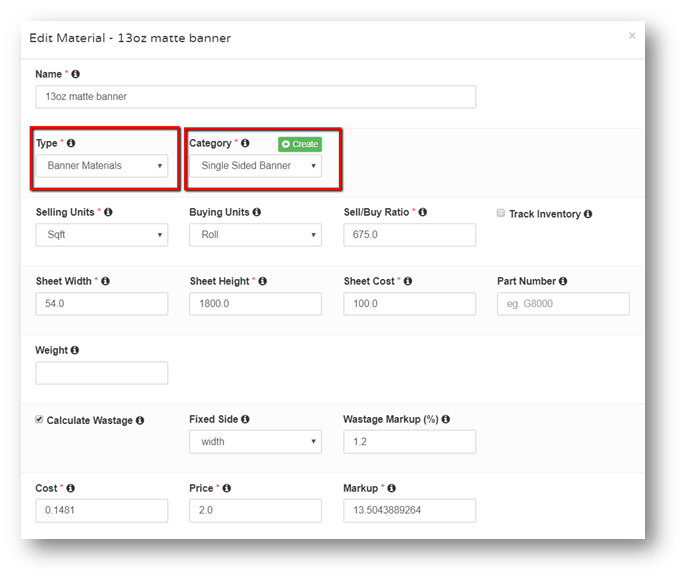 Category – The category gives users the ability to organize materials within groups of a certain type. If substrate is the type then "aluminum" could be the category.
Selling units, Buying Units & Sell/Buy ratio – This is how you sell the material such by the square by the foot etc. The Sell/Buy ratio is how many selling units are in a buying unit. For example, if you buy a roll of 54" x 150' vinyl and sell it by the square foot, then the conversion ratio is 675. Meaning 675 square feet in the roll. If you enter the roll cost and proper ratio, shopVOX will auto-calculate the cost per selling unit for you. Simply apply a markup or selling price if needed.
Notice here how the selling unit is square foot. The buying unit is Roll and the Ratio is 675. That means there are 675 square feet in this Roll.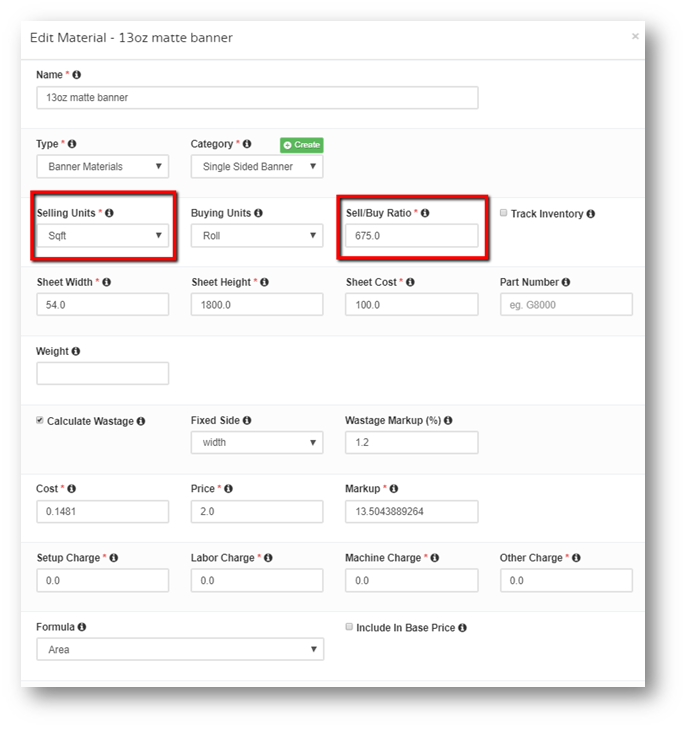 In this scenario the material is set to charge for the waste based on width at a 20% markup on cost. This would account for the cut-offs of the material that go in the trash, but also stay competitive.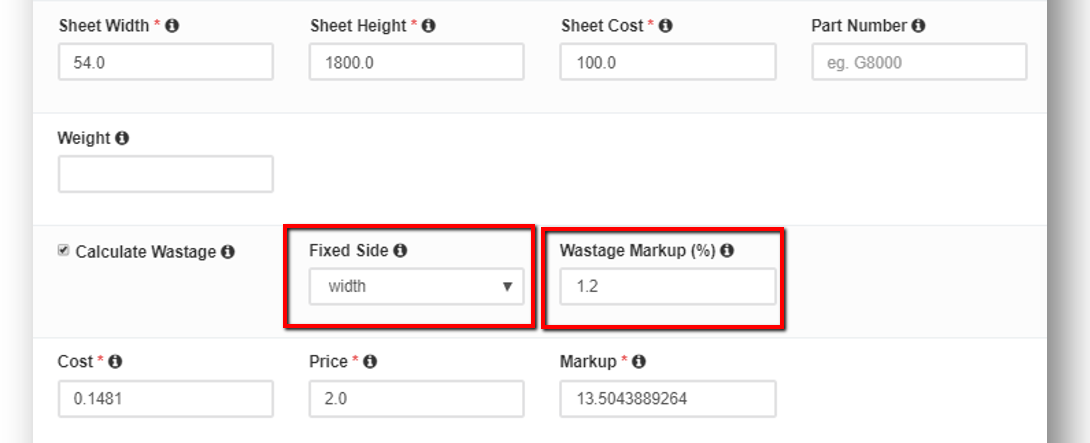 Formula – the formula is how you will determine how to sell the material. If you want to sell by the square then select Area. If you want to sell by how wide something is then select width.
Here is a pre-determined list of formulas you can apply to any material. NOTE: Make sure it make sense to the selling unit you've picked.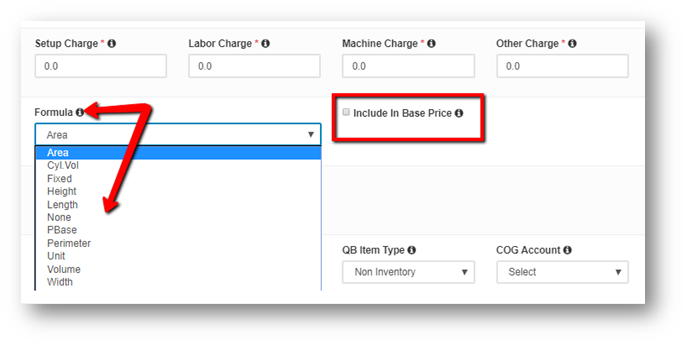 Include in Base price – Noted above...You will want to check base price if you want to use this particular item as part of the total base price. You can learn how to use Pbase by reading this article.
Per unit – When you check per unit then you will use this material against the Quantity that you enter for that Product Template. If you do not check per unit, then it will only be charged once on the line item regardless of quantity. Most materials will use "per unit" as true (checked = yes.) 🙂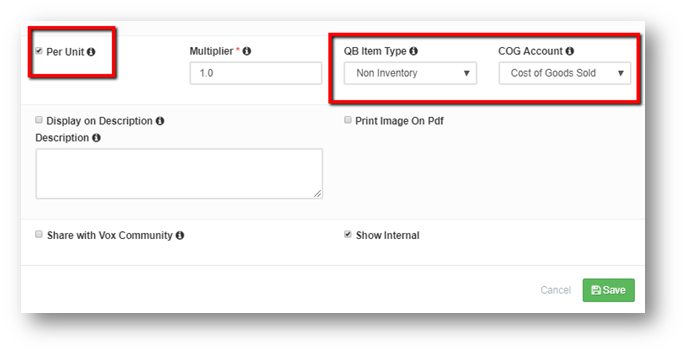 QB Item Type & COG Account - Noted above...these field will note how they are linked to the Chart of Accounts if you sync to your Accounting program.

How to Setup a New Material
First head to the material menu and add New.
You can get their by clicking on Company Menu >> POS Settings >> Pricing >> Materials

NOTE: All of the Images below are Sections of the Same screen.
Then give this a name, select the type and category.
You'll then need to associate your selling/buying units and sell/buy ratio. If you are going to assume waste on this material you should enter the sizes in the width & height fields. Please use inches.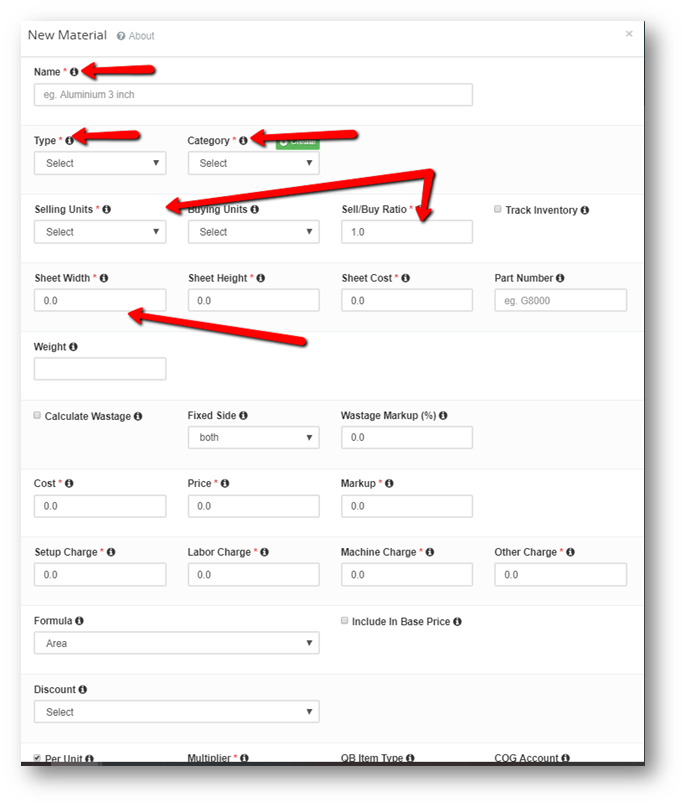 Here you'll decide if you want to calculate waste or not. Choose how shopVOX should calculate... Width, Height or Both height and width. Entering a percent on the waste will allow you to fine tune the selling price. Cost, Price & Markup will be determined by the information entered for the Sell/Buy Ratio in the previous area.
The 4 text fields for random charges are there to assume some type of charge that just needs to be there 😛 For instance, if this is HDU I might assume I have a clean up charge every time I use it. I could add $10 to the selling price by entering it in the labor charge field.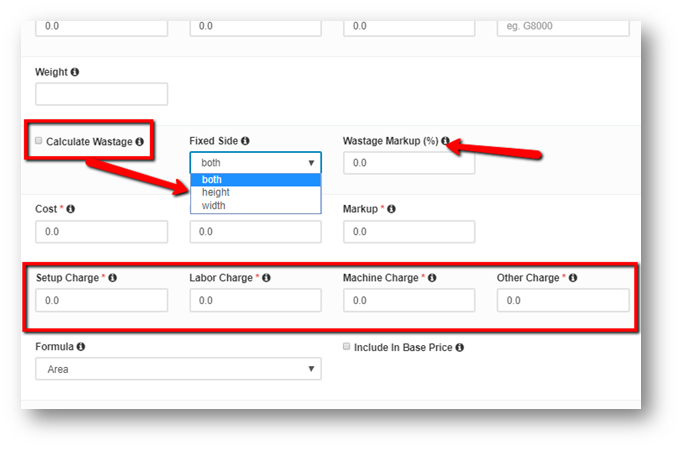 Select the appropriate formula for your material. Ideally this matches the selling unit BTW
If you want to include this material as part of the base price make sure you select it as well as per unit if you want it to multiply across the quantity entered.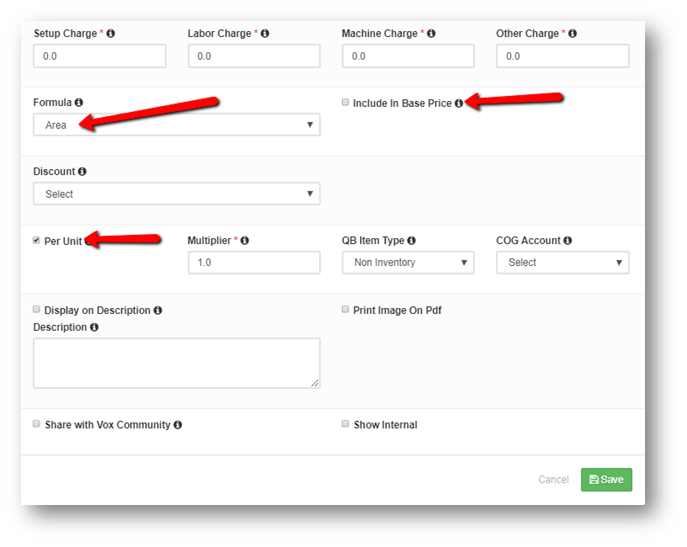 With Display on Description & Print Image on PDF options you can decide whether or not it should show to the customer documents or not. Some times you will not want this to display to your client but need the details on a work order. You can use this flag here to do so.
Additionally, you can pre-determine work order details here to automate important information.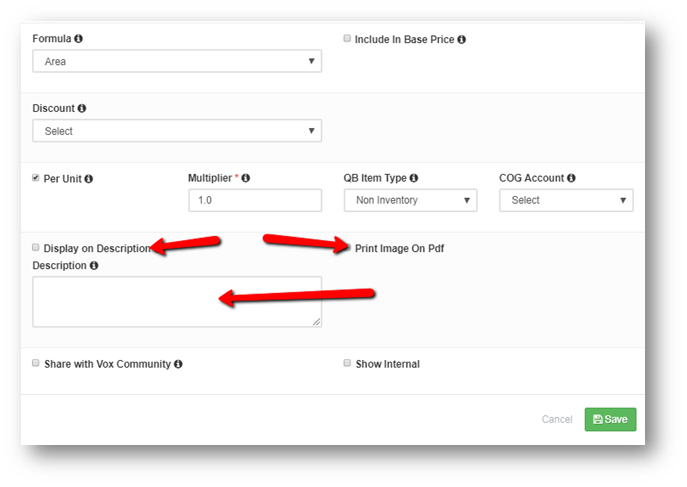 Finally, if you'd like you can share this material with other locations you own and also the rest of the VOX user community.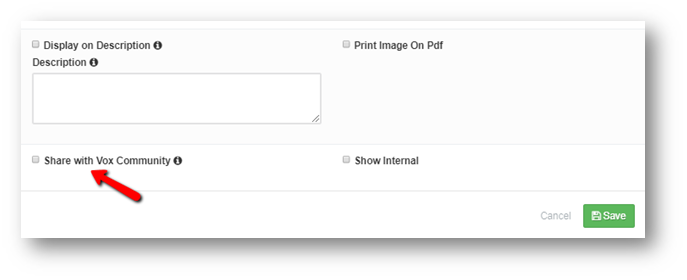 Supporting videos
NOTE: Some of the details in the interface have changed slightly since this video was recorded, but the basic functionality and layout is still the same.
Adding Roll Materials
Adding Sheet Materials
Adding Hardware
Adding Ink
Adding Materials to your Products
I want to add a choice of different materials
Mastering Materials
Adding images to your Materials
Sample File Used in Video

WHAT DO YOU WANT TO DO NEXT?
How helpful was this doc?