How to Sync to Quickbooks Online
How to Sync to Quickbooks Online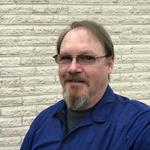 Updated by Aaron Aldrich
Now that you are all setup and ready to go, you can sync to your Quickbooks company. Here are the steps you will do to sync your transactions.
How to Sync to Quickbooks
STEP 1. Go to the QuickBooks Online Sync Invoices/Payments
Click your Company Menu > Account Settings > QuickBooks Online Sync Invoices/Payments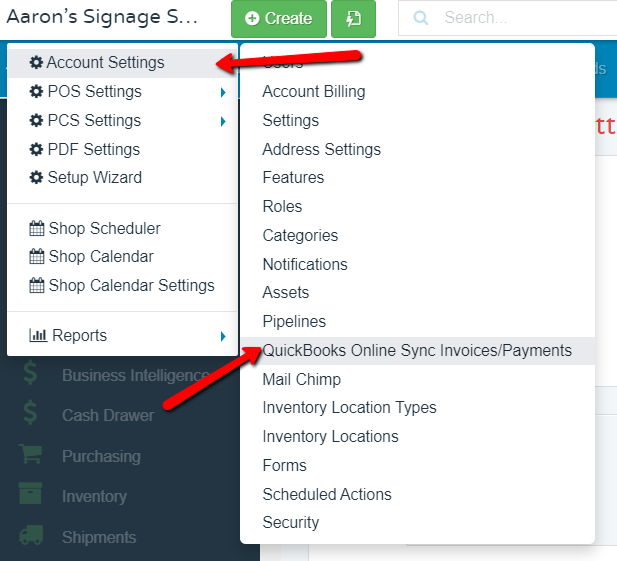 STEP 2. FAMILIARIZE YOURSELF WITH THE DASHBOARD AND HOW THE SYNC WORKS
Here's a quick rundown of the most important functions:
By default you will start on the Not Exported page. On this page with be three sections. One for Invoices, Purchase Orders and Payments. If you don't use Purchase orders or you don't want to sync them, you can change this preference in your account settings to NOT sync Purchase orders.
In this image, you see we have some Invoices that need to be synced to QBO.

When you click on the Not Exported button in the upper right, the other option is Exported. By clicking this, you will have a list of transactions that were exported to your QBO company already. This is available to allow you to re-export a transaction if needed.
Step 3: Selecting Invoices, payments and purchase orders to be synced.
You have two options to sync to QBO.
Option 1: Select just the ones you want to sync. NOTE: This is the best option when first setting up, as this give you an opportunity to do one at a time and make sure the sync process is working.
Option 2: Post All Invoices to Accounting. This will select all the transactions in the list and mark them as ready to post.
Step 4: Posting to your QB account
Once you have the transactions you want marked as Post Requested, click the Post Now button in the upper right. This will start the sync process.
Note: make sure you are logged into your Quickbooks account.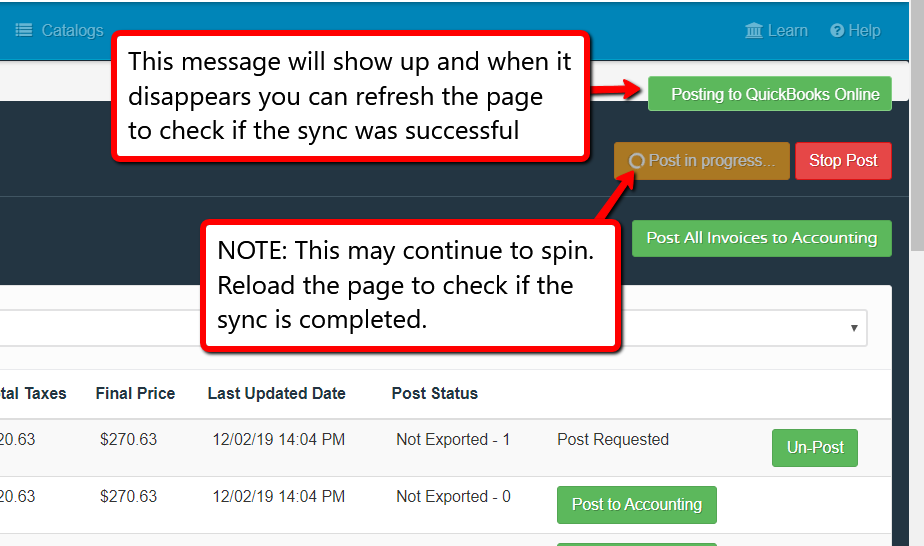 When you click the Post Now button, the screen will look like the image above. After the 'Posting to Quickbooks Online' message disappears, reload the browser. This will refresh the page and Posted transactions will disappear from the list. If there are any errors, you will need to correct them and post them again.
If you need guidance or help with any error, you can review this article on Common sync errors or contact our support team to help resolve the errors.
Step 5: Do this same process for Purchase orders and Payments.
Repeat the above steps for both Payments and POs.(if you plan to sync POs)
NOTE: As you become more proficient with this process, you can Mark all three lists at once and do the sync one time.
Purchase order list:

Payment list:

Step 6: Congratulations!
You have successfully synced to your Quickbooks Online account. We recommend you do this process on a regular basis of at least once a week. Some of our customers will do this several times a week.
Troubleshooting
The sync keeps spinning for a really long time.
Stuck in Post in progress... 
It just keeps spinning and spinning and spinning.
Usually you will just need to reload the browser and you will see the transactions have already been synced. If there continues to be an issue make sure you are logged into your Quickbooks account and check to see if it is linked to shopVOX. This can be done in the Account setting > Settings page.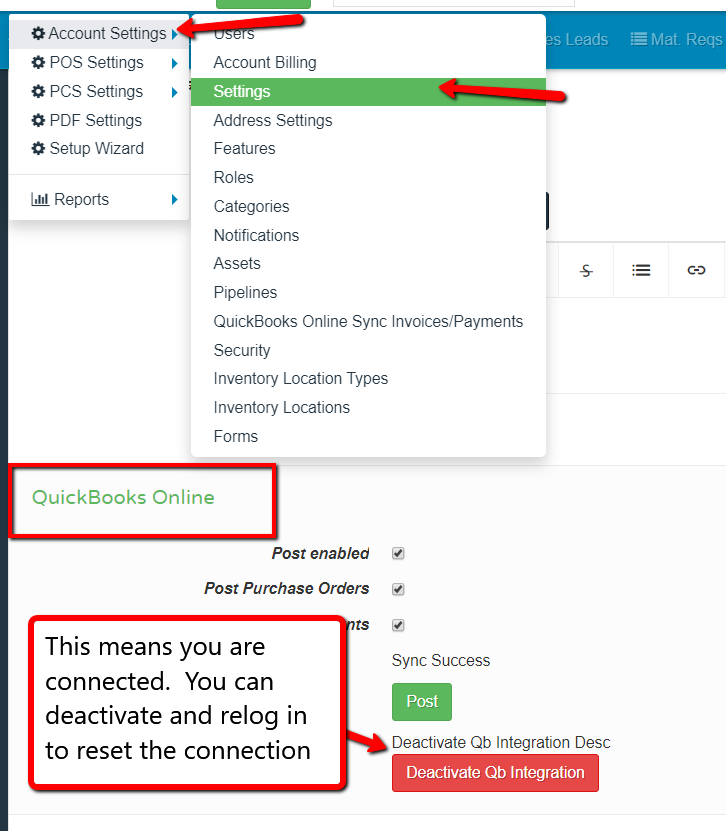 I'm getting some really strange errors that don't make any sense to me.
If any issues occur during the sync - Quickbooks usually reports that info back to us - so we can try to diagnose the error.
However, the result is usually not easy to read or decipher.
It might read like this:
StatusCode: 3120; Object "5EED-1464989631" specified in the request cannot be found. QuickBooks error message: The name of the list element is already in use.
We compile a list of these common errors and try to translate them into plain English (which is not always easy). Read the article here.
If you don't find your answer here, contact chat support to help review and fix the errors.

How helpful was this doc?