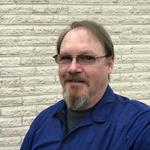 Updated by Aaron Aldrich
This master guide will be your road map to learning how the shopVOX pricing engine works.  This is a compendium of articles that we break down the different concepts of building a product.  It is written in two main sections, just like the Products & Pricing section in the Help Center.
Basic Pricing Concepts
Advanced Pricing Concepts
In each section, the articles are organized in a step by step fashion or building blocks. 
Ok, let's get started!
BONUS: there is a bonus section to this guide at the end that will have the industry specific articles with brief descriptions.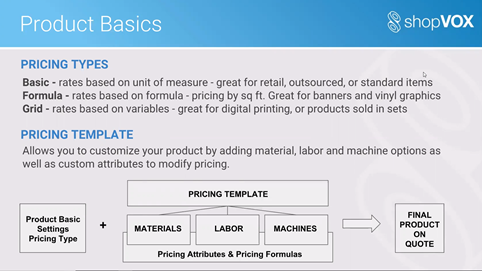 Basic Pricing concepts
Here are the basics.  These are the initial concepts to wrap your head around the shopVOX pricing engine.  This list of articles will explain the general concepts and help you understand the initial vocabulary of how a product is created.
What are Pricing Types?  There are 3 types: Basic, Formula & Grid.  This article explains how they work.  A little later in this article we will discuss some variations of the UI which will cover the Normal, Apparel and Panel option 
What is the difference between Standard, Cost+ and Product Pricing?  Every company has a way they price their products.  These 3 options discuss how you would mark up the cost of your products. 
Pricing Attributes – in short, an Attribute is an input field the User will select when pricing a Product.
How do I add a product category?   Categories are how you will organize your list of Products.  You have Product Type & category.  Think of these as a file tree – the Type is the main folder and categories are the sub-folders.
RECORDED ​WEBINAR:  Building a Product and understanding Pricing Templates.   This webinar is a great presentation that puts all of these concepts together and explains how they can be used to build different types of products.
 This is a screenshot from the webinar that review the Basic pricing types.  We used the analogy of Pizza to give you a visual.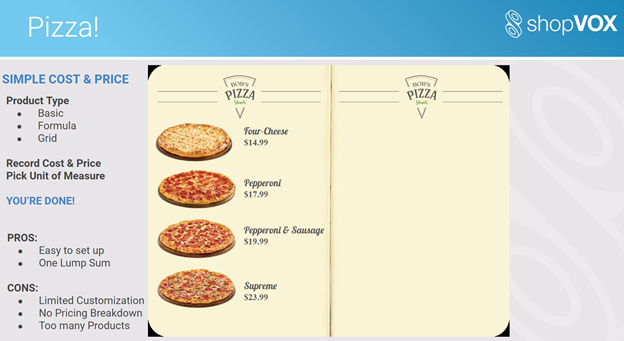 These two articles review the Grid pricing type and the Panel UI.  The Apparel UI is specific to the Screenprinting and Embroidery industry, which you can find in the Industry specific section of the Help docs.   I will include some of the industry specific articles in the Bonus section at the end of this article. 
Building Products using Grid Pricing
Pricing products using the Panels UI
The last basic concept we will review is Pricing templates.  Pricing templates can really flesh out a product with different options and formulas.  It will also contain a Bill of Materials with all the Materials, labor rates and machine rates that you add to a Product. 
This image is also from the Pricing webinar and shows a visual of how detailed a product can be with several options.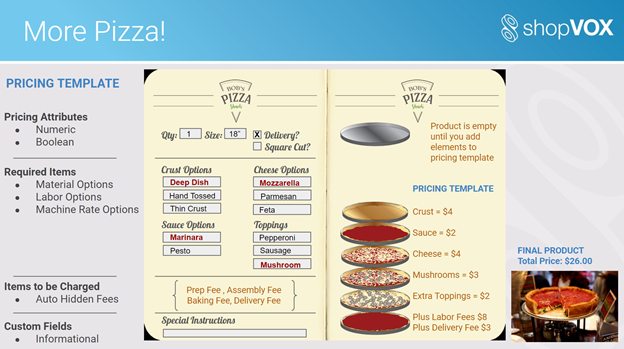 Create Your First Product - Ok, now that you understand some of the basic language, you can create your first product and learn more about materials, labor rates and machine rates.
Adding Materials to your account
Shipping, Setup, Finance & Miscellaneous Charges – these are fields you can turn on/off at the bottom of a transaction to add a flat amount or a percentage to a transaction.
Advanced Pricing concepts
This section really drills down into the nuts and bolts of pricing templates and reviews concepts like Wastage, second side pricing and adding Vendor pricing to Materials. 
Materials section
These articles are specific to building and adjusting materials that will be added to Products.
How does Wastage work in shopVOX? - Wastage is a concept of adding the cost of your left over raw materials to the price of a Product.
What is the Sell/Buy Ratio? - This explains how to add accurate cost to a material and help define the unit cost and price for that material.
Vendor Pricing: adding to Materials - develop a history of your vendor pricing within a Material.
Products section
These articles review different aspects of building and adjusting products.  There are also some common questions that are answered in this section as well.
What's the difference between Margin, Markup % and Markup Multiplier?
Modify Material, Labor rate & Machine rate formulas within a Product
Modifying Starter Products: Remove installation and design services if they are not taxable in your area.
Setting up Products priced by the Square Inch
How to setup second side pricing
How to increase prices for your Products by a percentage
Using Logic in your Pricing Templates
How to Copy Products Shared by the VOX Community
Deactivating and Deleting Products
Intro to Grid Pricing Webinar!
BONUS!!
We have reached the end!  Congratulations, you should now have a good understanding of the pricing engine....with the exception of the Apparel UI. We haven't discussed that part yet. I left that concept in the Industry specific content since it is so unique to the Apparel industry. You will find out about the Apparel User interface and how it can be integrated with apparel catalogs, adding pricing variants for decoration and get answers to common questions on adding Apparel products to a transaction. 
Apparel industry
Apparel UI related articles
Dynamic Size Selection on Apparel UI
Apparel UI - Catalog Pricing Flag
Adding your own Variants for Embroidery and Screen Printing
Catalogs section
Blank Apparel - Integrated Supplier Catalogs
MSRP Catalog pricing - setting a Fixed price for Apparel items
How do I add apparel styles that aren't listed in the integrated catalogs?
Importing custom catalogs for apparel from other suppliers
Screen printing section
How to price Screen Printing - case study
How to customize the standard Screen Printing locations
Promotional items section
Adding Promotional Products to your Quotes and Sales Orders
Promotional Items: adding Labor cost & Base Product cost to Purchase Orders
Using the Apparel products on a transaction.
Apparel Decoration Order Guide
How do I see a detailed breakdown of cost and price of apparel?
How do I stop the price for my apparel from recalculating when I update the quote or sales order?
How do add additional apparel styles or colors to a quote or sales order?
How to add Screen Printed Apparel to Quotes and Sales Orders ?
How do I quote multiple options or quantities of shirts or hats?
How do I add customer supplied garments to a quote or sales order?
Sign Industry
Since we have covered the concepts for Pricing templates, this industry section is more about specific products. This will also help explain the mechanics of a product and how they are priced.
Product: Yard Signs using Grid Pricing
Final note!
Don't fret if this seems overwhelming, we are here to help with this as well.  Our support team is available for additional training and guidance.  We have also dropped in a list of products into your system already to get you started.  We had done most of the work for you, but you will need to understand how they work to make changes to match your local pricing.
How helpful was this doc?