I can't use my email address? shopVOX says email has already been taken.
Get an error that says Email has already been taken when trying to create a new user or update an existing user?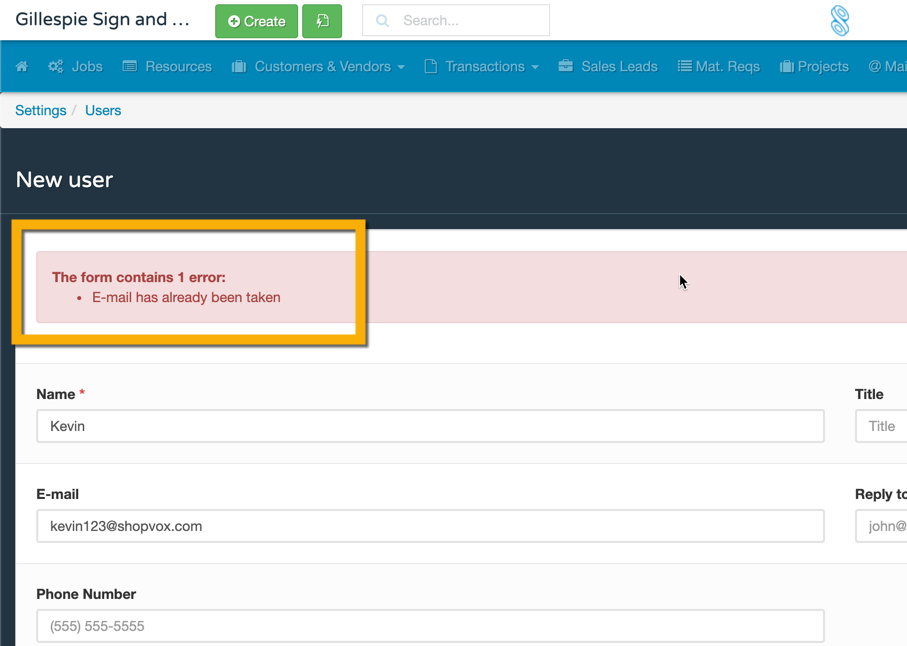 You cannot use the same email address for multiple users because it's the unique identifier for each user.
Here's a couple scenarios where you might encounter this error.
You used the email address for a trial Job Board account that has been de-activated account.
You've got 2 shopVOX accounts and you've used that email in the other account already.
How to fix the "Email has already been taken error"
If using a different email is not an option, contact our support team by clicking the Chat button inside shopVOX or send an email to billing@shopvox.com with the details on the email address you'd like to use.
Quick Tip: If you use Gmail or GSuite by Google, you can add a + to create different email addresses that all go to the same inbox. For example, billing@shopvox.com and billing+emailtroubles@shopvox.com would go to the same inbox. This is a neat hack if you have users that don't have their own GSuite inbox, but still need a unique login to shopVOX.
How helpful was this doc?