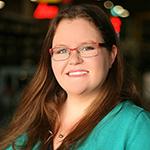 Updated by Lila Carsten
There are essentially two different user types in shopVOX, Full and Schedule users. Here we will explain what the difference is between these users and the benefits of each user type. Also, we'll describe how logging into shopVOX works.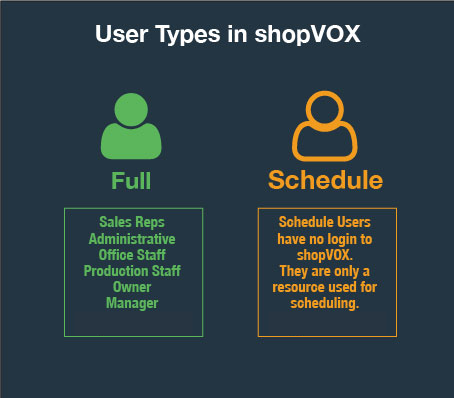 Full Users
Also known as a Paid User, Full users have access to either shopVOX Pro or Job Board (Depending on your subscription). Each User in shopVOX represents a username and password with full or limited access to data inside shopVOX.
IMPORTANT NOTE: Many server/client software systems look at number of concurrent users. ShopVOX does not operate in this way. 1 user subscription equals 1 username and password, it does not mean number of people that can be logged in at the same time.
Full Users are typically owners, administrative staff, sales reps, managers.
You should create a Full user if that employee needs to do any of the following:
Create a customer
Create quotes and orders
Create and send invoices
Track sales leads
Your Pro subscription includes 1 Full User in the Base Price
Each additional Full user is $29 ea per month.
Pro Tip: Any time you add a user to your account – you will be billed the pro-rated amount for the month and your monthly subscription will increase by $29 for each Full user. You can add as many users you want during a free trial, but you'll be billed for those users at the end of your trial period if they are not deactivated.
How Logging in Works
A common question we get asked a lot is... Can more than one employee share a username and password? Although employees can share a username and password, they cannot be logged in at two different computers at the same time, the most recent login will be logged in, and will logout anyone else who is logged in.
Example of Sharing a Login - Each Full User has it's own username and password. Let's say "User@fakesignprint.com" is logged into computer A, Jack is using this computer and shopvox login to update a Job. Meanwhile Jill decides to log into shopvox using this same user on computer B to update a customer's email address. When Jill logs in, Jack will be logged out immediately.
Schedule User
Also known as a Free User, Scheduling users are just names on a roster, and are available only for Pro subscriptions. You can assign them to workflow steps and/or account for them when scheduling your calendar.
Scheduled users DO NOT have a login to shopVOX – to access any data, they would need login credentials (They can only be logged in as a Full/Paid User because a Scheduled/Free User does not have login credentials)
Schedule users are free – $0 per month.
Typically production staff are added to shopVOX as Schedule Users. Since they're primary role in shopVOX is to look at their schedule, it will be cost savings to purchase one Full User Subscription for the production floor, and assign your production staff as schedule users so they can all access the one full account to view schedules and job boards.

WHAT DO YOU WANT TO DO NEXT?
How helpful was this doc?